You might already know
Murakami

.
He was the
only artist
on this year's
Time Magazine
100 Most Influential People list.
He designed the super cool cover for Kayne West's album
Graduation
.
His sculpture
My Lonesome Cowboy
(you know, the one with the ejaculating semen lasso) sold at auction earlier this year for a whopping $15.2 million
His designs are
everywhere
--from Louis Vuitton handbags to plush toys to keychains.
Yup, Takashi Murakami is a global art superstar.
And after seeing his show at the
Brooklyn Museum
for myself, I admit that I'm sold. Sure, he has a staff of 100 artists who actually make the giant-scale pieces he designs. But I couldn't help but respect his vision and simply enjoy hanging out in his bizarre technicolor world.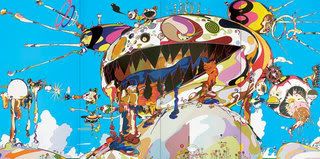 Considering his style is SO contemporary, I was surprised learn he earned his doctorate in Nihonga…it's a traditional Japanese style from the late nineteenth century. He decided to leave this style in search of a way to better represent
modern
Japan, and found his inspiration in the thriving otaku subculture…they're the folks obsessed with anime and manga. In the late 90's he perfected his trademark
Superflat
style--which looks exactly how it sounds. Flat planes of color, flat finishes, flat flat flat.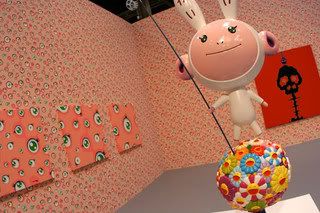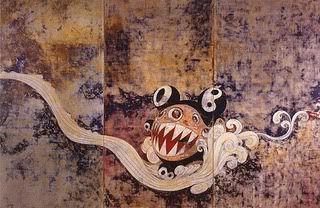 His pieces are like a psychedelic visual stew of concepts: graphic images from anime and manga, sexual fetishism, and references to traditional Japanese art and history. It takes a while to take in each piece because there's simply so much going on. So many little characters to discover. But visually the works are so controlled that I never found them too chaotic.
After seeing the show, I wanted a postcard of my favorite piece. It cost an absurd $2.75! I thought,
"Damn you Murakami and your consumer empire!!"
And then I bought one anyway.