Danish/ Icelandic artist
Olafur Eliasson has taken over New York
! First I saw his work at the MOMA...then at PS1...and now he has installed waterfalls along the East River of Manhattan! He
must
be a very busy man.
But I don't mind his unavoidable presence in New York this summer...because I really really love his work. Firstly...it's SIMPLE. His works are very much about nature and the basic elements of visual perception but his installations are simultaneously artificial. He's interested in patterns, shapes, colors, and the power found in nature. (Side note: As a glacier nut, I was overly gleeful to see his collections of glacier photographs.) He plays with light, water, and geometry as easily as I play with pencils.
Since they are installations, pictures can't quite do them justice. You have to lay underneath the massive
rotating reflective foil disk
for yourself. Or walk into a dark room with falling mist and just enough light so you see a
rainbow
against the blackness. Or stand in a room made of walls that are literally lit so that you are so fully enveloped in a single
saturated color
...so that you look like a tinted photograph. Sigh..you just have to visit them in person. But here are a few pictures!
One of his waterfalls up through the Summer along the East River...
An upside-down waterfall (the water moves up) at PS1...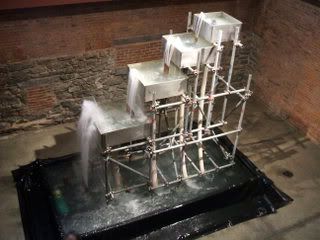 Sculpture with planes of colored glass in front of a window at PS1...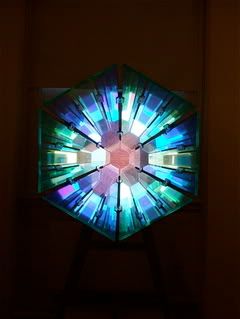 His saturated yellow room and his mirror-sculpture-window-contraption at MOMA...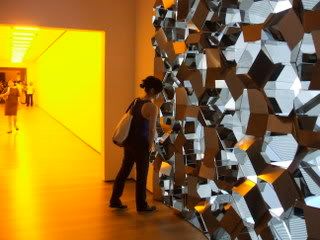 Rotating mirror that plays with the angles of the walls (It's hard to explain!) at MOMA...