Earlier this week I came across this bizarre pet store (and charcoal grill) down in the West Village with my friend Laura. An aged tweety bird swinging in a cage? A rabbit filing her nails at a vanity?! We were both highly entertained and highly baffled. The next day I heard that famous British street-artist Banksy set up an installation of a pet shop...ah-ha! I returned to check it out in more detail...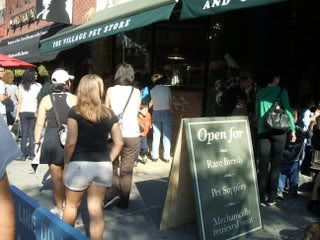 As a carnivore, I never wanted to acknowledge where my processed foods came from...and as a vegetarian, I finds ethics in meat production lacking and factory farming icky. So needless to say, this installation struck a chord for me. And struck my funny bone at the same time. (Isn't that the best way to convey a message?) There are animatronic chicken nuggets...
And hotdogs and sausages squirming around in their cages...
Fish sticks swimming eerily in a giant fish bowl...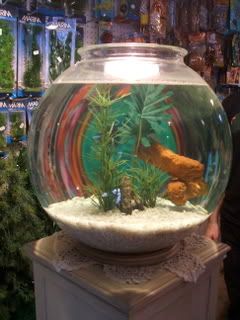 Monkey watching monkey porn...
...and a bunch of other amusing creatures! (There are even actors hired to play the clerks.) It's only up through the end of the month, so check it out while you can: 89 7th avenue just north of Bleeker Street. Oh, how I love that Banksy...