I fell in love with
Alexander Calder
in high school when I saw his work in Washington. Most artists seem like they wouldn't be fun people to hang out with (You know, they're depressed or overly intense or egotistical...) but Calder must have been a delight to be around. He was always creating and playing throughout his life. He's renowned for his mobiles, but the Whitney's current Calder show features work from the time he lived in Paris (1926-1933).
There are scads of wire sculptures depicting faces and figures. With a single wire he eloquently captures a form and personality of a person. (To me they look like living pencil drawings) He makes it look so effortless that it made me want to come home and start playing with my wire coat hangers! Here is one of the numerous Josephine Baker inspired figures...
The centerpieces of the show is his famous circus! All the little figures and animals are manipulated by hand and made of simple materials like wire, pipe cleaners, and bits of fabric. Each element is so simple but so clever! I am partial to the trapeze act, the knife thrower, and the lion.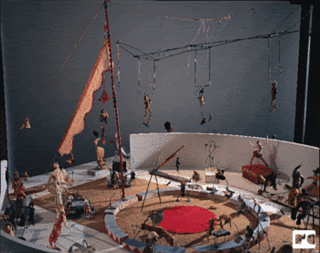 This video shows Calder performing just some of the acts in his circus...