William Eggleston
has a show up at the Whitney, and it was such a large collection of his work that I didn't even get a chance to see it all! Which is a shame, because I enjoyed his work. He's an American photographer, known for his masterful use of color through his distinct dye-transfer printing method. He shoots everydayness in the South, specifically the Mississippi Delta region.
My favorite image was this one here, because the reds were so vibrant and juicy. It looks so blah here, but that's because his color processing simply doesn't translate in reproductions. The photos simply
glow.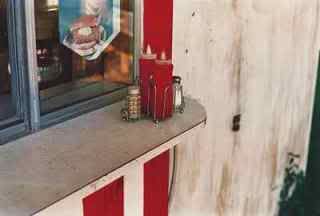 My friend Jesse and I loved this photo in particular, with its identical poses but contrasting colors. Who are these men? What was going on?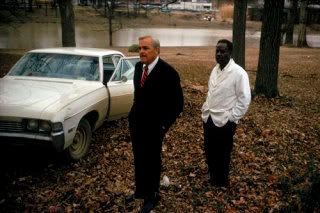 His photos feel casual because they're mostly taken from eye level, like he just decided to take a picture in the moment of something that caught his eye. The point of view of this one makes me feel like I'm sitting in the booth of that diner waiting for my lunch.
PS--Jesse and I saw Billy Baldwin at this show. A security guard asked us, "So what movies has that guy been in?" We both drew blank expressions.