My favorite gallery in Chelsea is Honey Space.
It only started showing art earlier this year, and it's unusual because it's left open and unattended all day. It's an old warehouse space (11th Ave. btwn 21st & 22nd St.) whose owner has simply been letting artists use
for free
for a few years. Artist Thomas Beale was using it as his studio before he decided to start this "no-profit" gallery space. He simply opens the security gates in the morning and closes them at night, leaving it completely open to the public to walk through.
At the latest opening,
I walked in to discover
no art on the walls
. But...there was a
hole
in the floor. (Tom discovered it when he removed the bolted-down piece of wood covering it.) So you have to climb down the hole to find the art, like a secret treasure...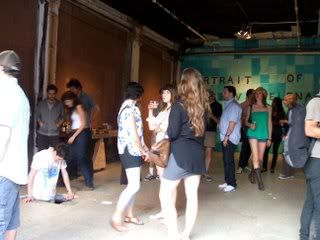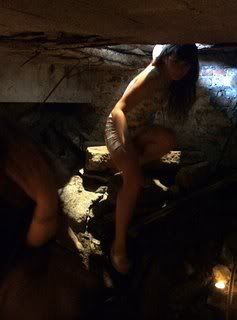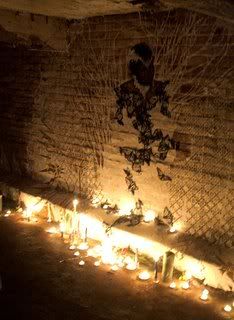 The secret treasure is a piece by renowned
street artist Swoon
. She creates these lifesize figurative wheatpaste prints and paper cutouts that you see on walls all over the city. I love how the holes in the paper show the often-decaying wall behind it...so instead of merely sticking an artwork
over
a wall her work is
interacting
with it. It's a unique combination of edgy yet poetic. This particular piece was a tribute to a women (Silvia Elena) who was murdered in Mexico, so the crypt-like space was the perfect setting.
Here are some other examples of Swoon's work...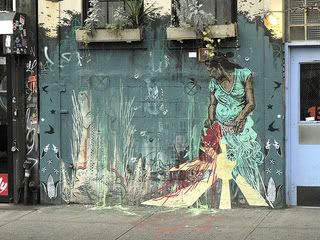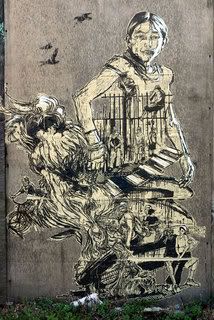 And finally, here's a pic of Mr. Honey Space Tom (with the accordion) with Mickey Western at a previous reception: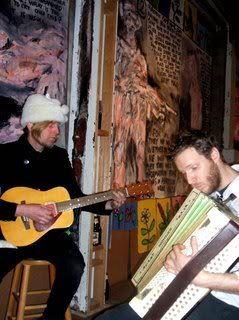 I can't wait to see what's in store at the next show...